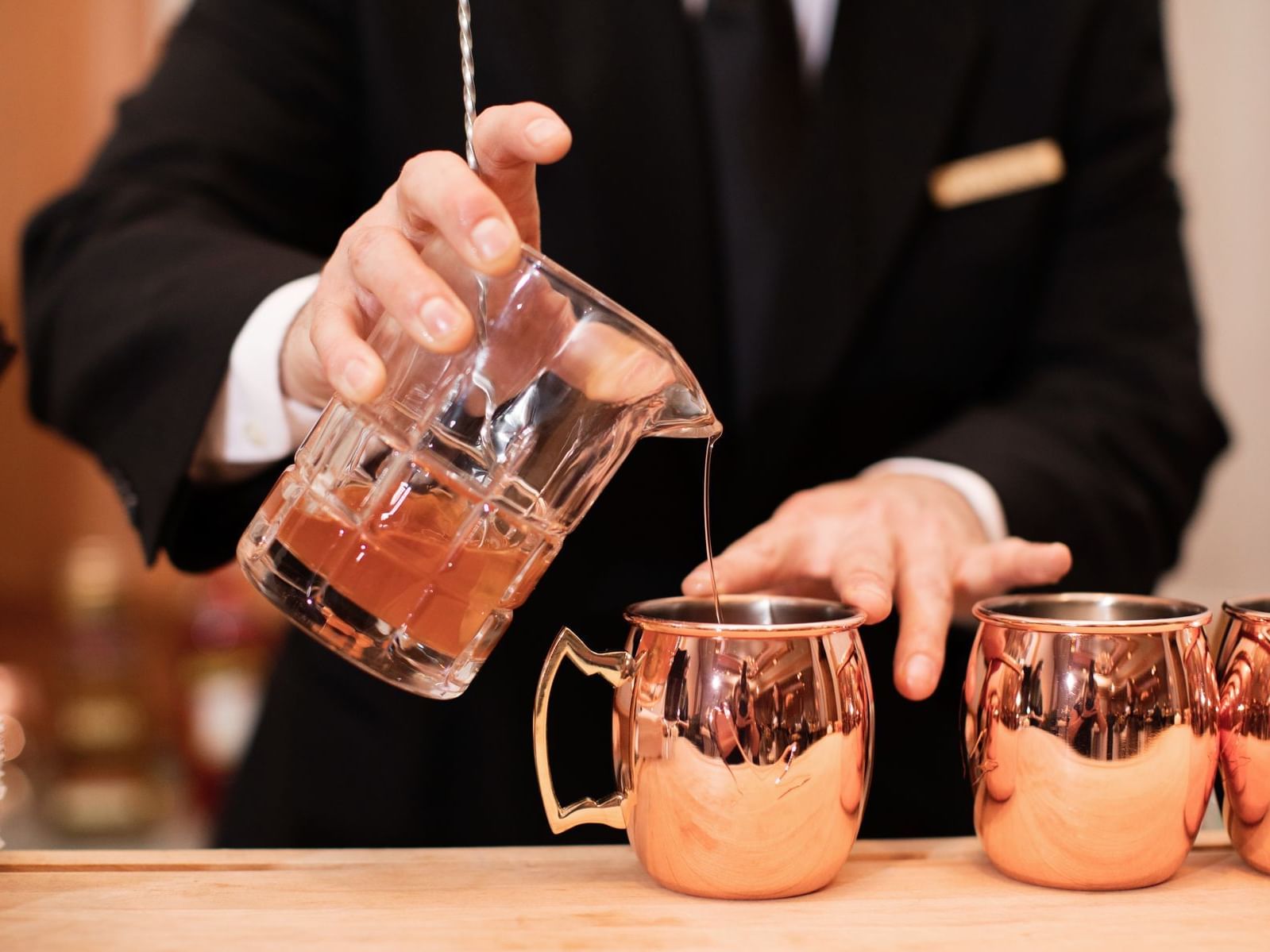 The Bar & Lounge
The Bar & Lounge at The Umstead Hotel and Spa is the perfect place to begin or end a memorable evening. Our wine cellar is stocked with an extensive collection representing the world's most renowned regions/ Furthermore, our signature culinary inspired cocktails offer a truly unique taste that incorporates the season's best flavors. With live entertainment in the evenings, you'll find that the fare on our bar menu is impressive and imaginative in the spirit of Herons.
The Bar & Lounge operates on a first come, first serve basis.
Hours
BAR & LOUNGE

11:30am until 11pm - Sunday to Thursday
11:30am until Midnight - Friday and Saturday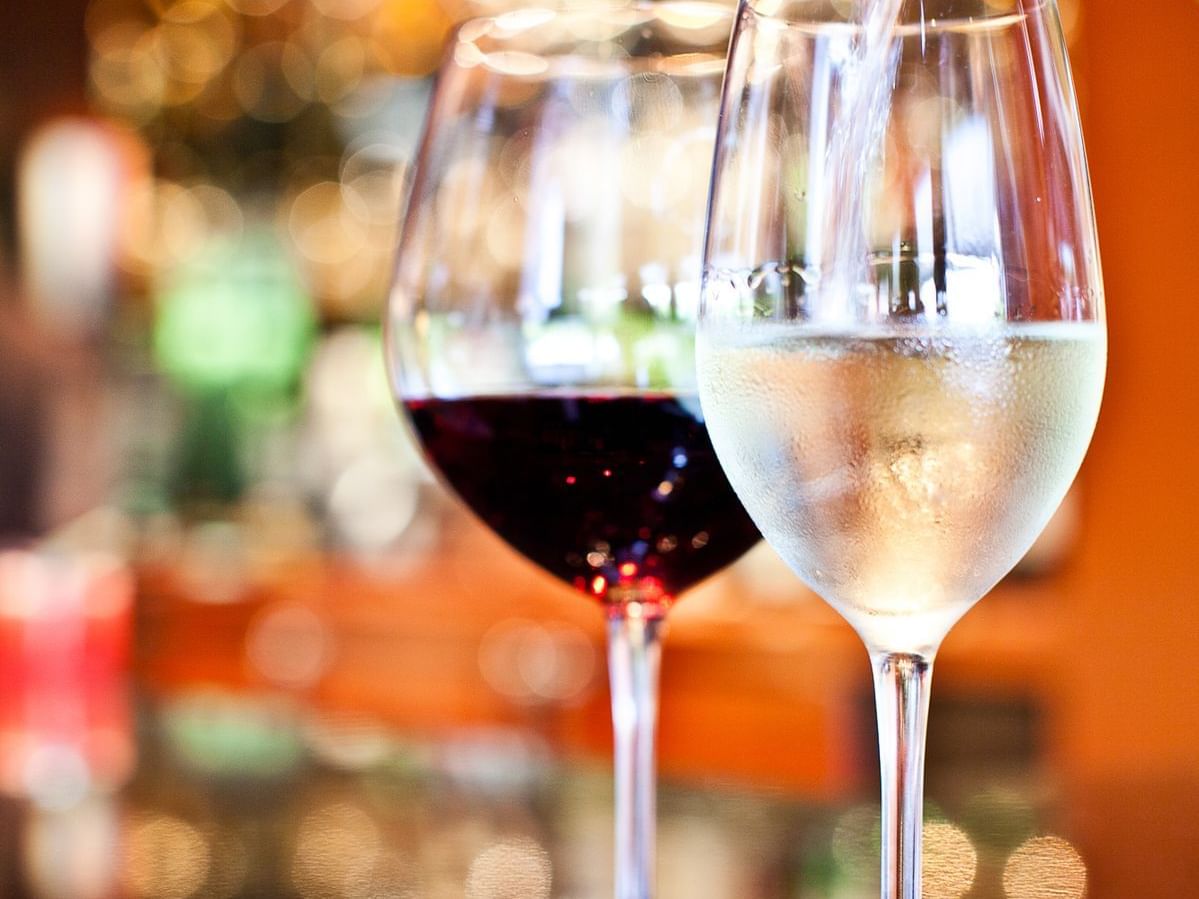 Uncorked Wine Series
Our Sommelier invites you to journey through the world of wine with the Umstead Uncorked wine tasting series. Held in the Fireplace Lounge, this engaging series features a selection of wine paired with small bites to enhance the flavor profile and showcase hidden notes. Expand your palate as you tour new regions and countries, explore lesser known varieties and learn about new styles and old favorites. Kindly visit the Event Calendar for more details on our Uncorked Series and upcoming wine dinners and events.
Umstead Uncorked Wine Tasting *Fully Booked*
"The Dirt on Tuscany"
We're starting Uncorked in 2020 with a visit to Central Italy! Featuring full bodied, earthy reds perfect for hearty winter fare, warm up in our Fireplace Room with a discussion led by Sommelier Hannah Barton.
"Art Tour" Tasting Menu Returns
Beginning July 13th, Herons Executive Chef Steven Devereaux Greene welcomes you to the highly anticipated return of his "Art Tour" tasting menu. Each course is it's own work of art inspired by pieces found in The Umstead's permanent collection. Chef Greene's full talents shine as he manages to make each course visually stunning, while allowing the flavors of each season to shine in the process. Available nightly, the menu will feature seasonal ingredients from "One Oak Farm", The Umstead Hotel & Spa's sustainable farm meticulously attended to by our Resident Gardner Alyssa Campo The Umsteads resident gardener, and local suppliers when possible.
Umstead Uncorked Wine Tasting
"Discover South Africa"
A wine region that has yet to find a firm foothold in the US market, South Africa is known throughout Europe for a broad range of incredible values. Fortunately, our Head Sommelier, Troy Revell, has visited this beautiful country, and cannot wait to share with you some of his favorite choices for November Uncorked.
Thanksgiving
Join us at The Umstead Hotel and Spa on November 25th as four-time James Beard Award Semifinalist Executive Chef Steven Greene prepares a delicious Thanksgiving meal. This year, Thanksgiving will feature a four course plated dinner with choice of entree and family style sides.
Umstead Uncorked Wine Tasting "Holiday Bubbles"
We're in full holiday mode for the final Uncorked of 2021! Join us for a very special lineup of all sparkling wines from around the world, featuring the US, England, and of course Champagne. These selections will also be available for purchase to help complete your gift giving season. Complete with pairings from the Umstead chefs, help us wrap up the year with this special event!

Christmas Dinner in Herons
Enjoy more time with your loved ones while celebrating Christmas this year, leaving dinner to Herons Executive Chef and four-time James Beard Semifinalist Steven Greene. Allow Chef Greene and his wonderful culinary team to showcase their talent through a four course dinner with choices. Featuring holiday classics and a few surprises, all with artful and elegant presentations, guaranteed to please even the most discerning of palates. Full menu available soon, vegetarian and gluten-free options available upon request.
New Year's Eve Dinner in Herons
Whether you are beginning your 2021 celebration or enjoying an intimate evening, let Herons be your destination this New Year's Eve. Enjoy an exquisite four-course dinner with choices prepared by Executive Chef Steven Greene as you look ahead to the new year. Full menu available soon, vegetarian and gluten-free options available upon request.