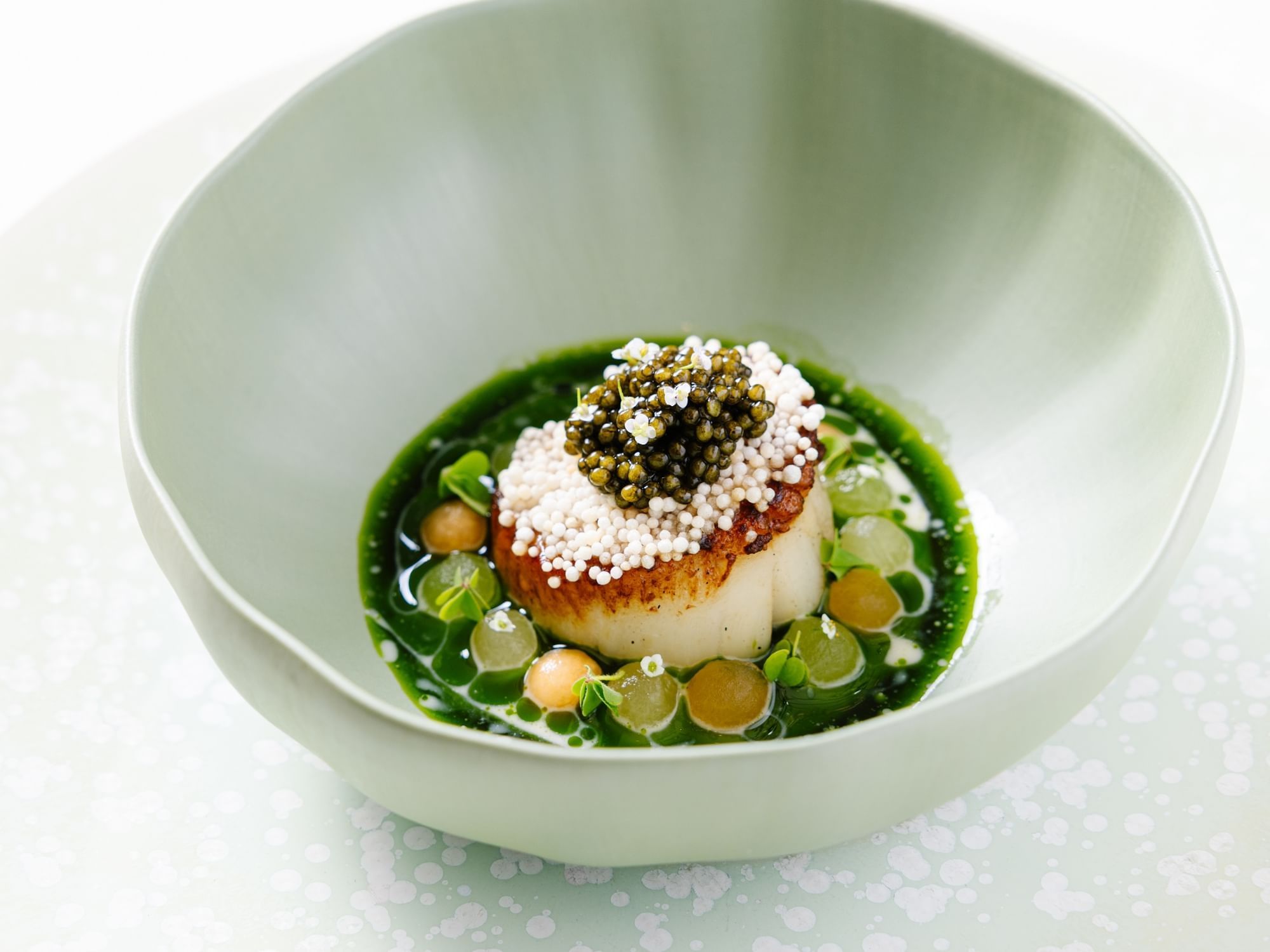 Fine Dining in Cary
Indulge in Fresh Dishes Made with Locally Sourced Ingredients
A passion for locally grown fruits and vegetables and farm-fresh meats and seafood is evident in the exquisite food and beverage offerings throughout The Umstead Hotel and Spa in Cary, North Carolina. Led by four time James Beard Semifinalist and celebrated chef, Steven Greene, these fresh flavors, surprising food combinations and striking presentations are the trademarks of every appetizer, meal or signature cocktail that we offer. Our restaurant proudly uses ingredients locally sourced from over 14 nearby farms, including our very own two-acre culinary plot - One Oak Farm.
At The Umstead, a sublime culinary experience isn't limited to within the well-appointed walls of Herons restaurant. Rather, guests can taste spectacular, locally sourced seasonal delights in a cabana by the pool or at a cozy table in The Umstead Bar while savoring Afternoon Tea or simply by ordering room service.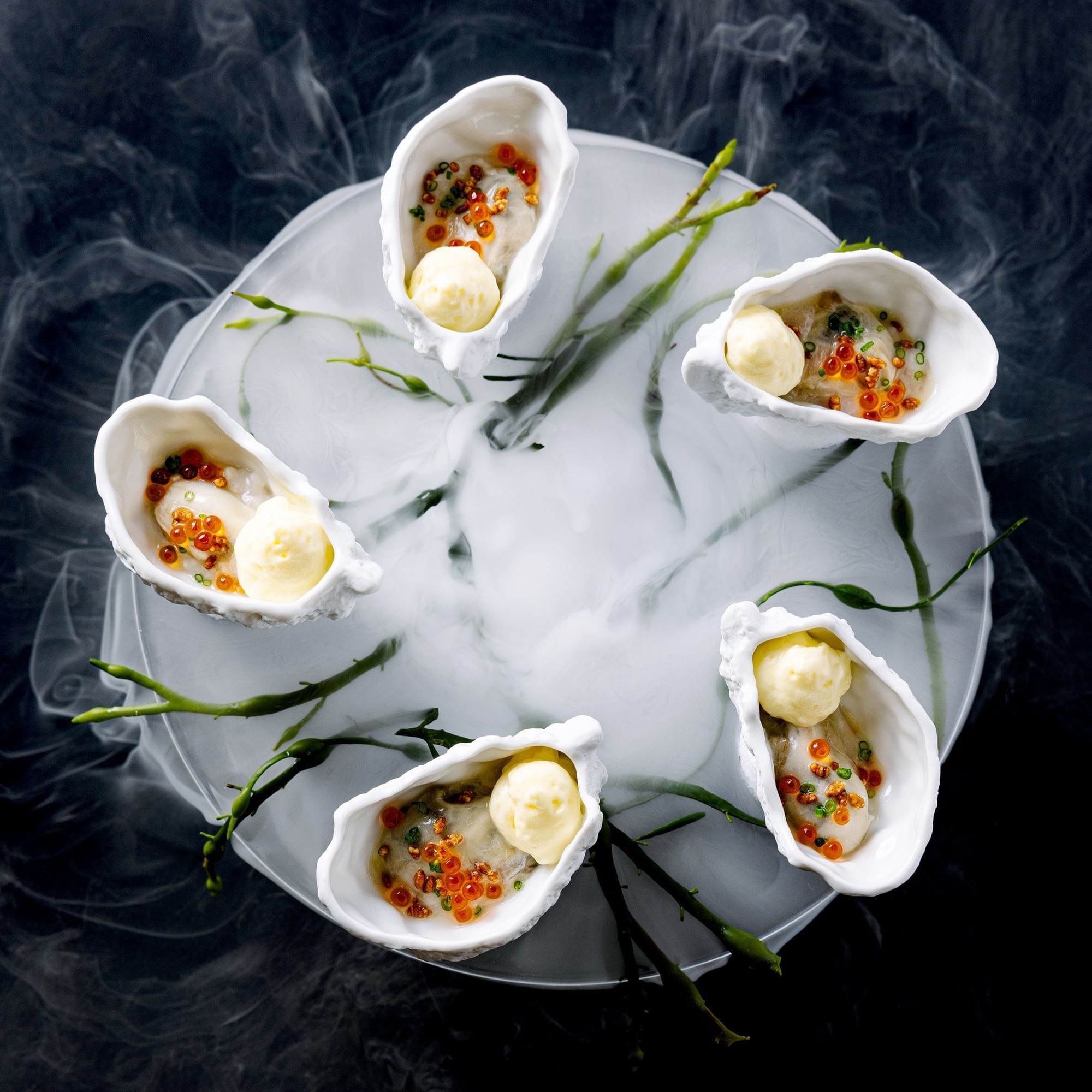 Herons
One of only 64 Forbes Five-Star restaurants in the world, Herons is the signature restaurant of The Umstead Hotel and Spa and annually acclaimed among the best restaurants in and around Raleigh, North Carolina. Open for breakfast, lunch, dinner and weekend brunch, the intimate, 98-seat dining room features a full-view kitchen, a meticulously curated private art collection and floor-to-ceiling window views of the surrounding gardens and grounds.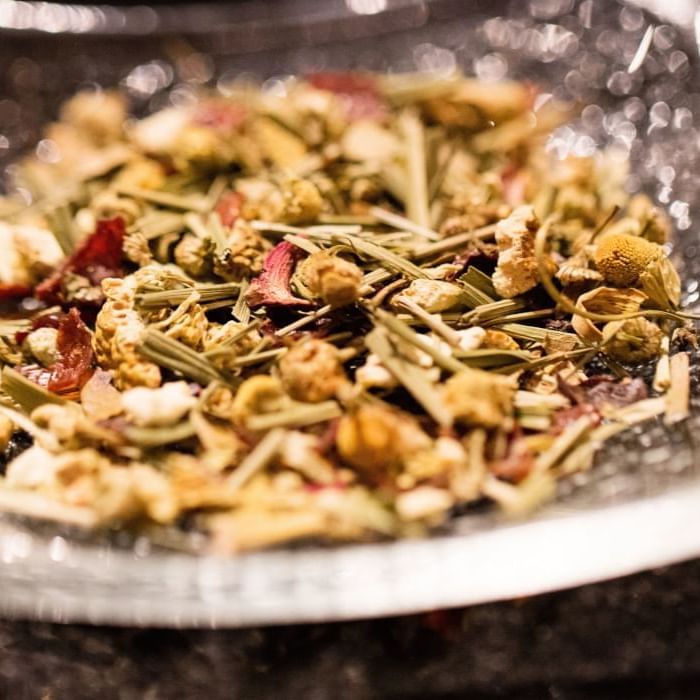 Afternoon Tea
Afternoon Tea is served in the Lounge, situated amongst the art adorned walls and enhanced by the hotel's Dale Chihuly glass sculpture and a live harpist. This Umstead tradition is a welcoming and elegant way to spend an afternoon socializing.
Advance reservations are required. Kindly speak with our reservations team at 919-447-4050 to arrange for your table. To provide quality of service, please inform our reservations team of any allergies or dietary restrictions at the time of booking. Any changes requested the day of are subject to availability. Same day reservations are not available.
For parties of seven or more, please contact our catering department at 919-447-4120 to make alternative arrangements in our event space.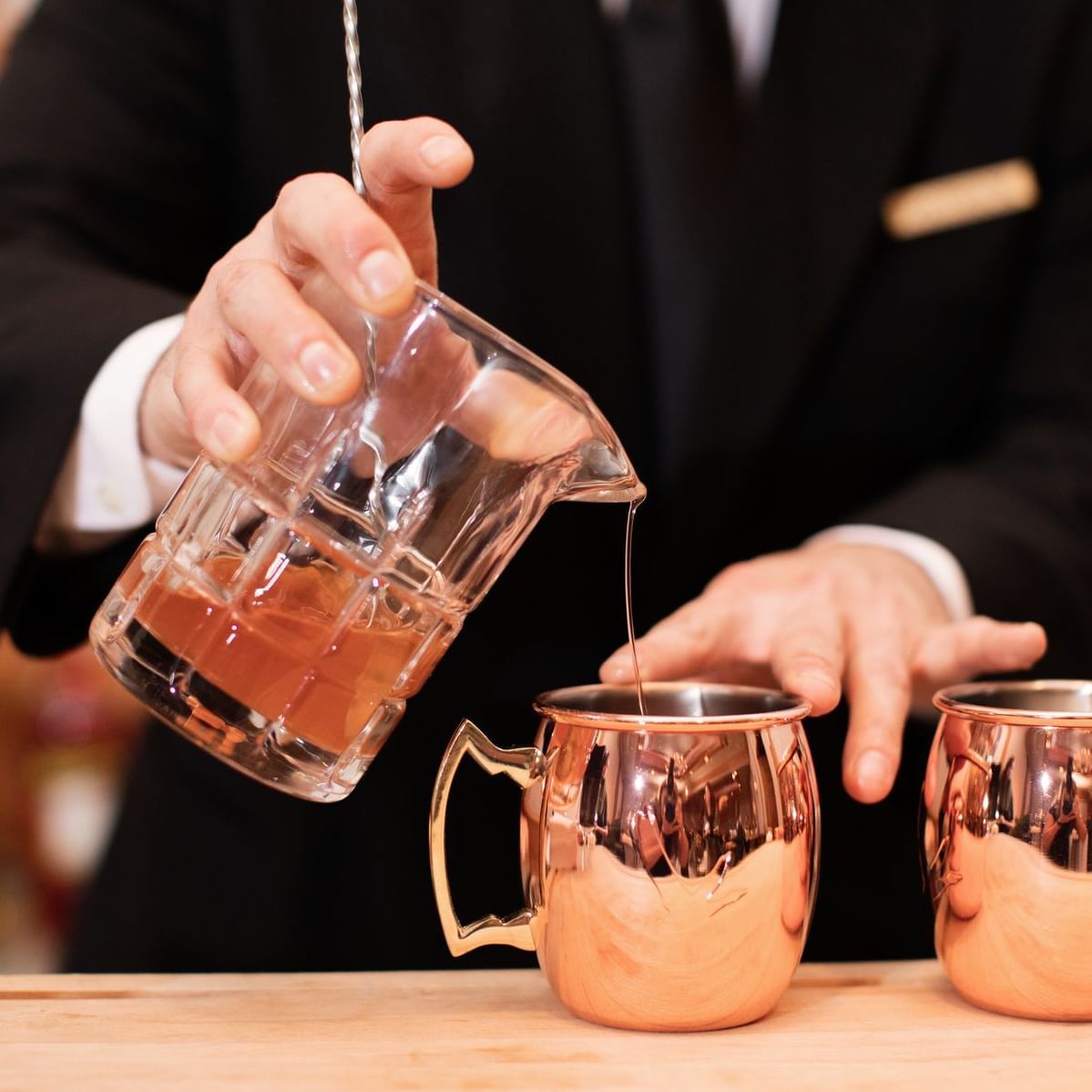 The Bar & Lounge
The Bar & Lounge at The Umstead Hotel and Spa is the perfect place to begin or end a memorable evening. Our wine cellar is stocked with an extensive collection representing the world's most renowned regions/ Furthermore, our signature culinary inspired cocktails offer a truly unique taste that incorporates the season's best flavors. With live entertainment in the evenings, you'll find that the fare on our bar menu is impressive and imaginative in the spirit of Herons.
The Bar & Lounge operates under limited availability and is unable to accommodate party sizes larger than 8 in the dining area. Please contact us for further information."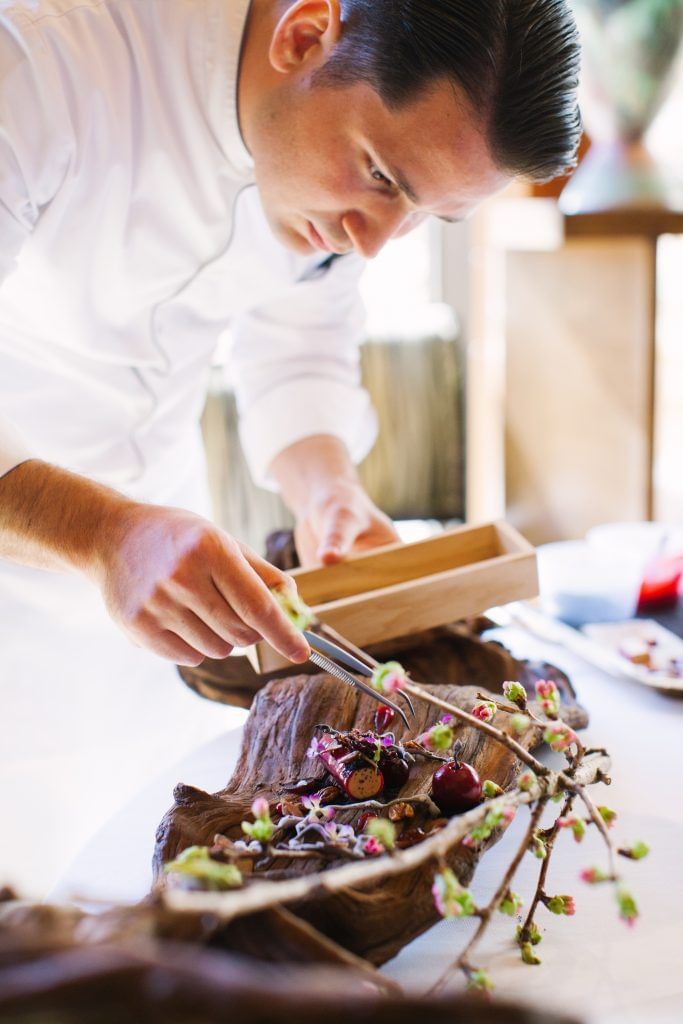 Culinary Team
Under the direction of Executive Chef Steven Greene, our culinary team masterfully takes food from seed to plate. Working with Culinary Farmer Daniel Holloman to carefully plan the crops at our One Oak Farm, our chefs envision the creative and tasteful menus of seasons ahead. The Culinary Team takes each harvest and crafts plates that emphasize the nuances of each season with meticulous preparation and presentation. Their imaginations and our native soil create progressive American regional cuisine in an intricate and artful form.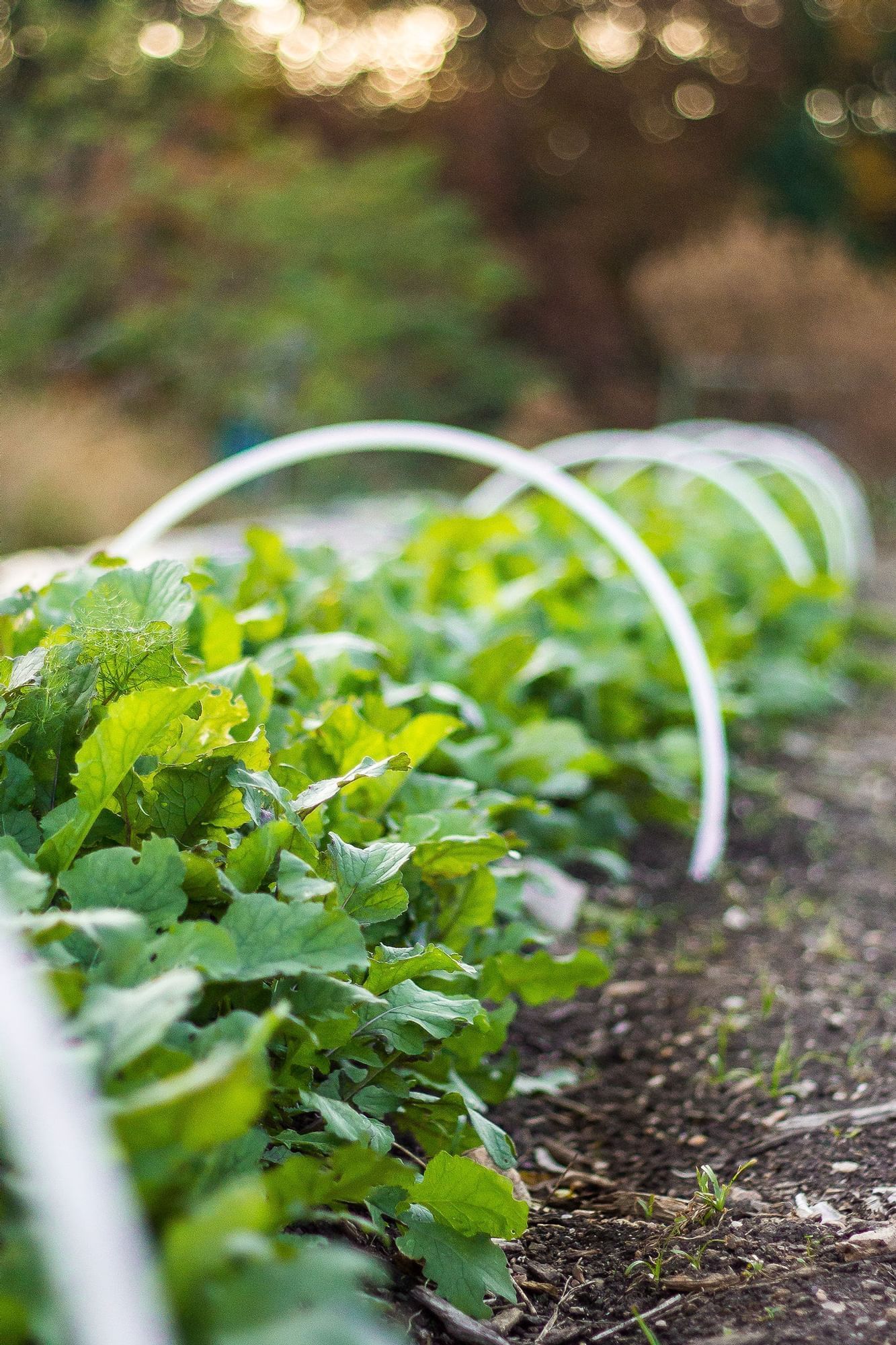 Culinary Farm
The Umstead is pleased to offer homegrown vegetables and herbs from our nearby dedicated farm.
Herons & Raleigh Denim Ment'or Foundation Fundraiser
The Umstead is set to host an unforgettable evening of culinary delight and fashion synergy with beloved fashion brand Raleigh Denim as it hosts this year's Ment'or Foundation fundraiser on Friday, November 3. This exclusive event will take place in The Umstead's elegant ballroom and is limited to 48 guests.
The Raleigh Denim x Herons Ment'or Fundraiser highlights the importance of mentorship by featuring Raleigh Denim's and Herons' mentor/mentee relationships. The evening's program will showcase a chef's tasting menu designed by the Herons culinary team, and featuring courses created by Executive Chef Steven Greene's mentees. Greene is a multi-nominated James Beard Awards Semi-Finalist and has propelled Herons to receiving a coveted Five Star rating from Forbes Travel Guide since 2011.
Thanksgiving
Enjoy a Thanksgiving meal that blends tradition and indulgence, curated by our celebrated Executive Chef, Steven Greene – a four-time James Beard Award Semifinalist. Chef Greene brings his signature focus on seasonal cooking to the table, inspired by the fall bounty harvested from our very own sustainable farm, One Oak Farm.
Tea with Santa *FULLY BOOKED*
*All Dates are Fully Booked*
Join us this winter for our annual Tea with Santa series. Let your children ages 10 and under delight in this magical event as they enjoy a special visit with Santa and let him know what is on their wish list this holiday season. Santa will share photos of his favorite memories as he tells stories of his helpful elves and reindeer. Tea with Santa includes photography, a small gift, and hot chocolate service with savory and sweet morsels.