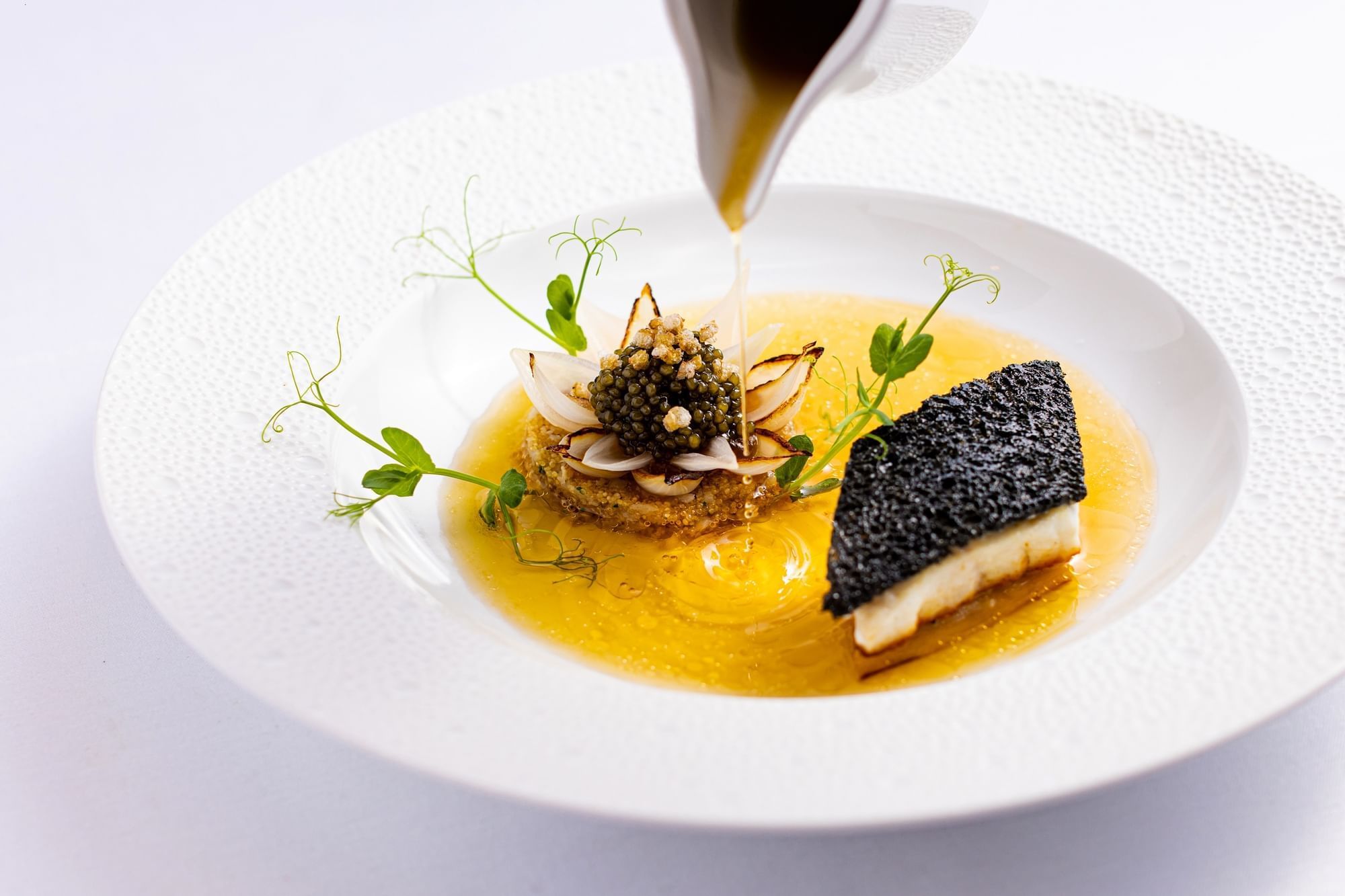 Fine Dining in Cary
Indulge in Fresh Dishes Made with Locally Sourced Ingredients
A passion for locally grown fruits and vegetables and farm-fresh meats and seafood is evident in the exquisite food and beverage offerings throughout The Umstead Hotel and Spa in Cary, North Carolina. Led by 2019 James Beard Semifinalist and celebrated chef, Steven Greene, these fresh flavors, surprising food combinations and striking presentations are the trademarks of every appetizer, meal or signature cocktail that we offer. Our restaurant proudly uses ingredients locally sourced from over 14 nearby farms, including our very own two-acre culinary plot - One Oak Farm.
At The Umstead, a sublime culinary experience isn't limited to within the well-appointed walls of Herons restaurant. Rather, guests can taste spectacular, locally sourced seasonal delights in a cabana by the pool or at a cozy table in The Umstead Bar while savoring Afternoon Tea or simply by ordering room service.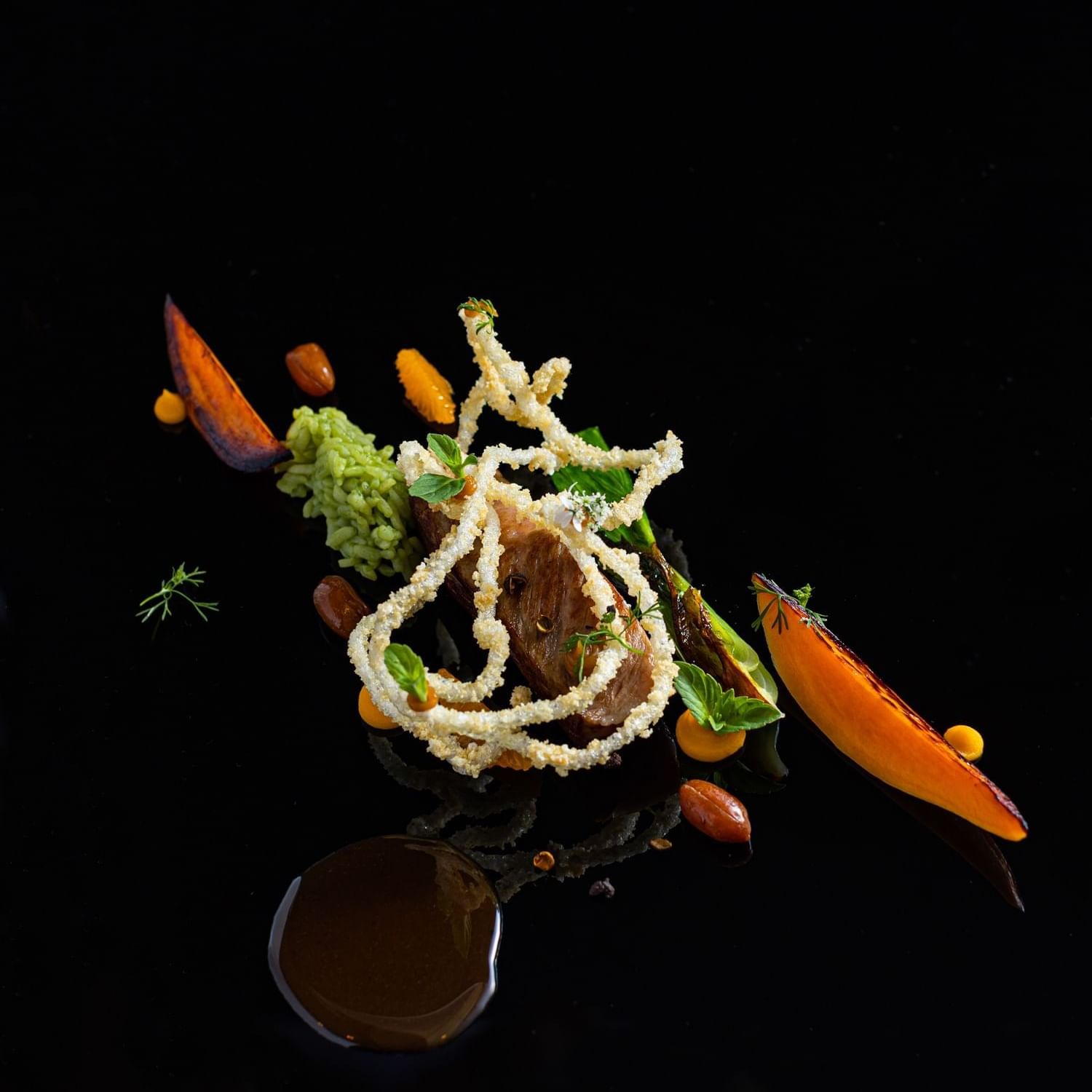 Herons
One of only 64 Forbes Five-Star restaurants in the world, Herons is the signature restaurant of The Umstead Hotel and Spa and annually acclaimed among the best restaurants in and around Raleigh, North Carolina. Open for breakfast, lunch, dinner and weekend brunch, the intimate, 98-seat dining room features a full-view kitchen, a meticulously curated private art collection and floor-to-ceiling window views of the surrounding gardens and grounds.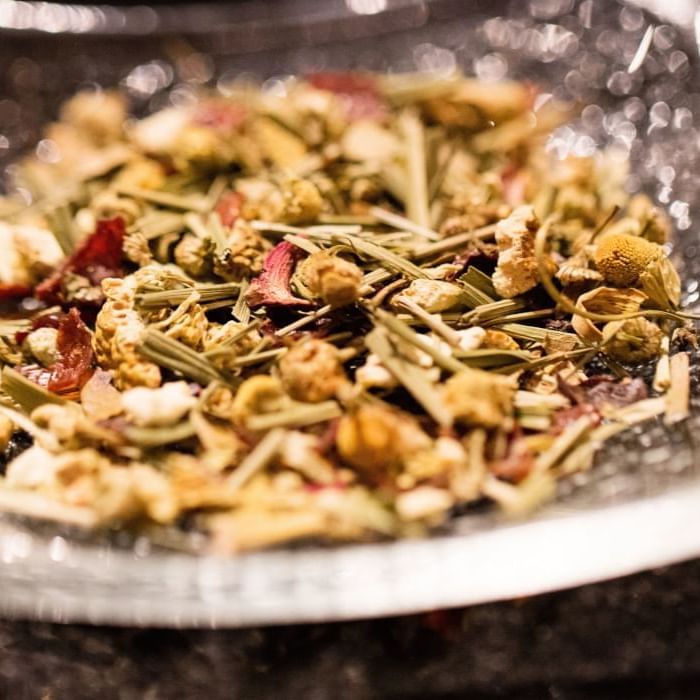 Afternoon Tea
Afternoon Tea is served in the Lounge, situated amongst the art adorned walls and enhanced by the hotel's Dale Chihuly glass sculpture and a live harpist. This Umstead tradition is a welcoming and elegant way to spend an afternoon socializing.
Advance reservations are required. Kindly speak with our reservations team at 919-447-4050 to arrange for your table. To provide quality of service, please inform our reservations team of any allergies or dietary restrictions at the time of booking. Any changes requested the day of are subject to availability. Same day reservations are not available.
For parties of seven or more, please contact our catering department at 919-447-4120 to make alternative arrangements in our event space.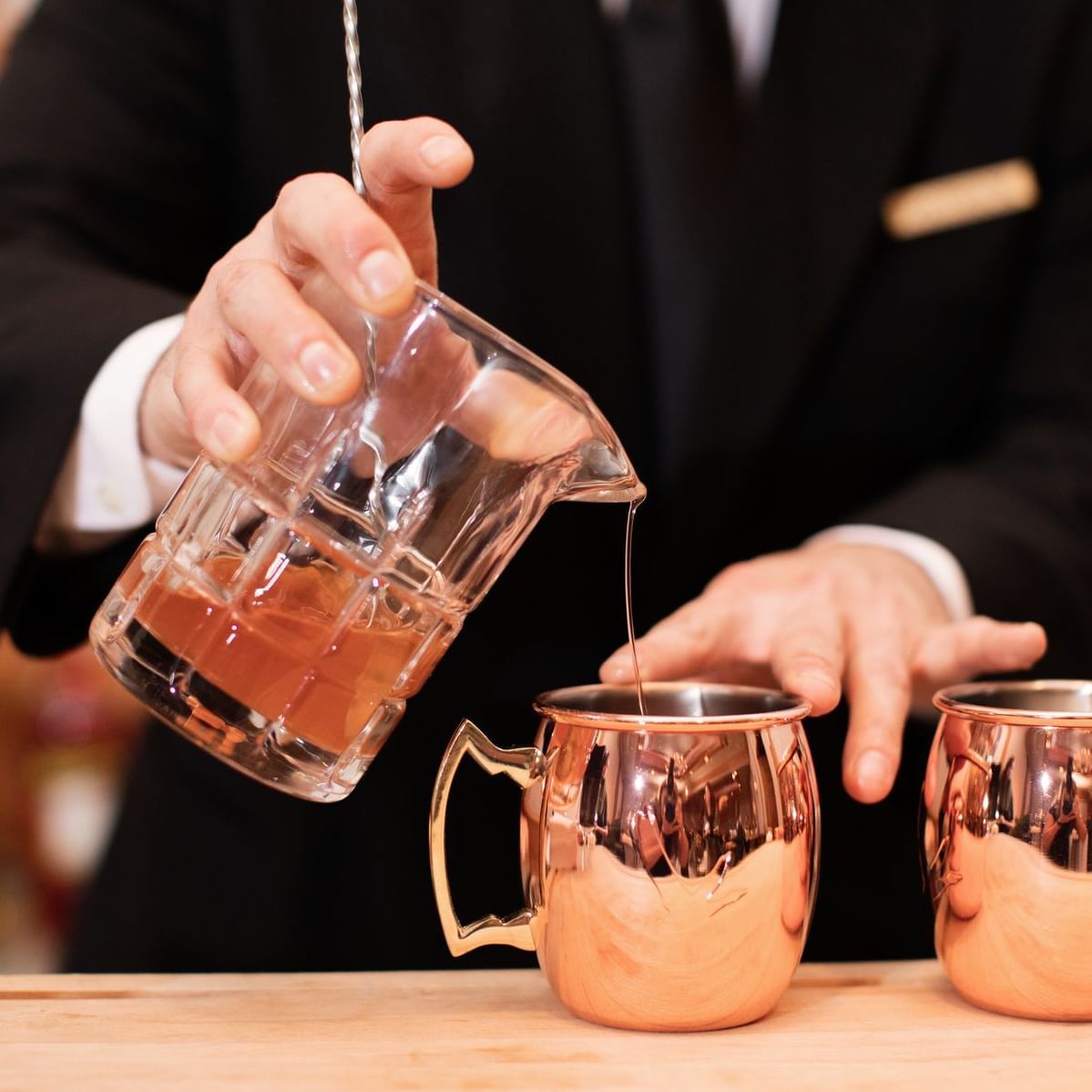 The Bar & Lounge
The Bar & Lounge at The Umstead Hotel and Spa is the perfect place to begin or end a memorable evening. Our wine cellar is stocked with an extensive collection representing the world's most renowned regions/ Furthermore, our signature culinary inspired cocktails offer a truly unique taste that incorporates the season's best flavors. With live entertainment in the evenings, you'll find that the fare on our bar menu is impressive and imaginative in the spirit of Herons.
The Bar & Lounge operates under limited availability and is unable to accommodate party sizes larger than 8 in the dining area. Please contact us for further information."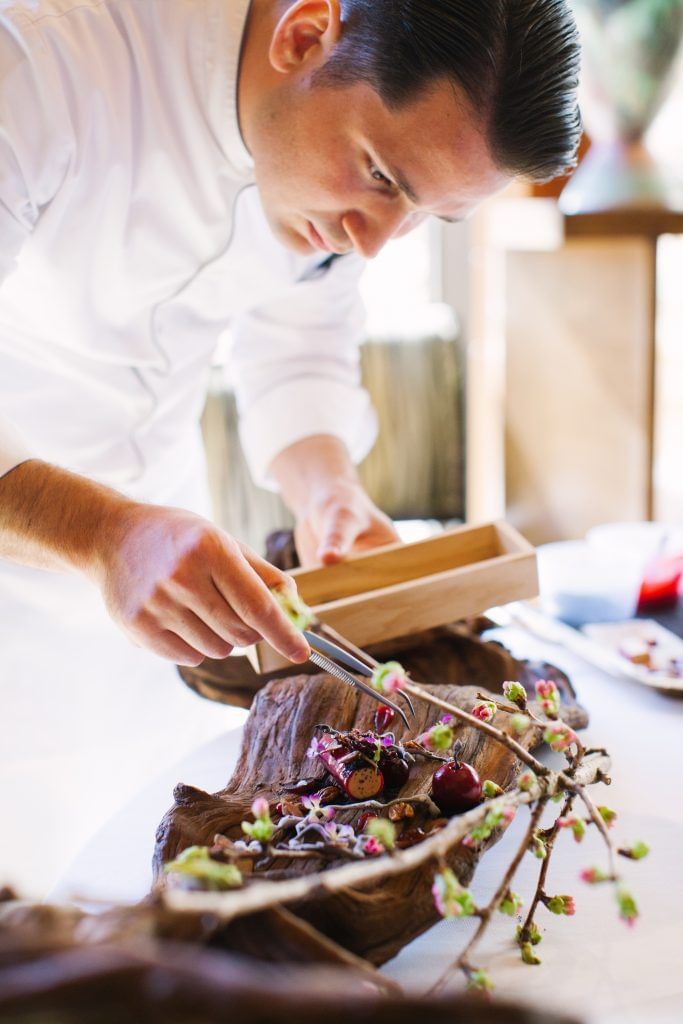 Culinary Team
Under the direction of Executive Chef Steven Greene, our culinary team masterfully takes food from seed to plate. Working with Culinary Farmer Alyssa Campo to carefully plan the crops at our One Oak Farm, our chefs envision the creative and tasteful menus of seasons ahead. The Culinary Team takes each harvest and crafts plates that emphasize the nuances of each season with meticulous preparation and presentation. Their imaginations and our native soil create progressive American regional cuisine in an intricate and artful form.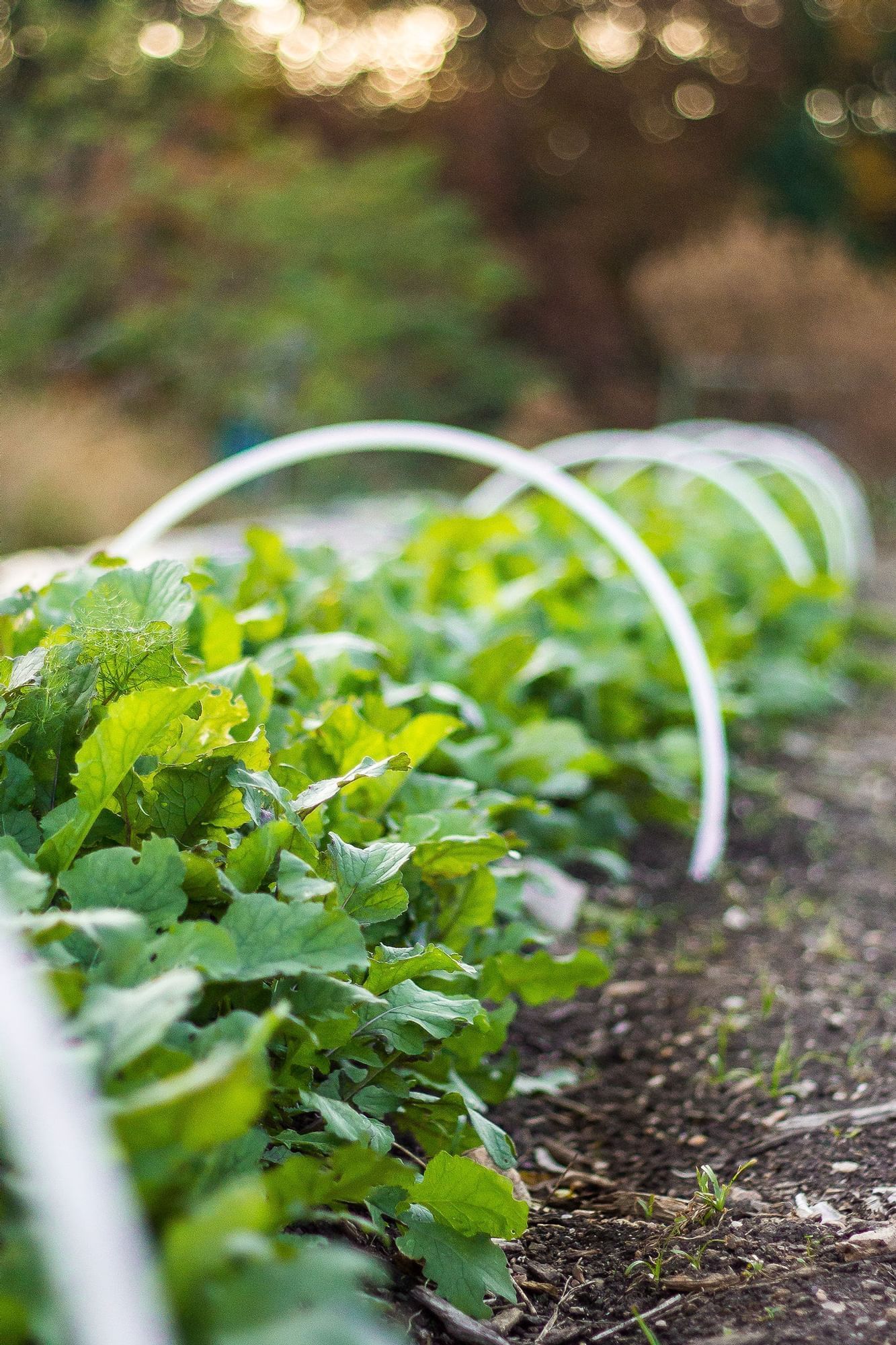 Culinary Farm
The Umstead is pleased to offer homegrown vegetables and herbs from our nearby dedicated farm.
Limerick Lane Micro Dinner *Fully Booked*
We are excited to invite you to an exclusive Umstead Micro dinner on June 6th featuring Karen DeGolia, owner of Limerick Lane Cellars in Healdsburg, CA. Only 10 guests will have the opportunity to join us in the intimate Herons Dining Room for an unforgettable evening.
During the dinner, Limerick Lane will showcase eight of their exceptional wines, including their Rhone wine series, renowned Zinfandels, and blends, all sourced from their 53-acre estate in the Russian River Valley of Sonoma County.
Staglin Wine Dinner
The Umstead Hotel & Spa invites you to enjoy this incredible combination of 5-star cuisine from our Executive Chef Steven Devereaux Greene paired with World Class wines from Staglin Family Vineyard. Staglin is a small family-owned winery producing very limited quantities of estate grown wines from their vineyard in the Rutherford Bench region of Napa Valley. Representing all that Napa Valley can be in its highest form - tradition, quality, innovation, and deft expertise. Their wines simultaneously express complexity and subtlety, without falling into the trap of an overblown style for scores or mass marketing. This comes natural to them, of course, owning one of the most premium certified organic vineyard sites in the world on their Rutherford foothills estate.
June Uncorked - Piedmont, Italy
Join us for our June Uncorked tastings, featuring one of the most classic wine regions of the world, Piedmont, Italy. While the area is known for collectable wines from Barolo and Barbaresco, it also offers a range of everyday deliciousness that is perfect for the summer months. Umstead Wine Director Troy Revell cannot wait to guide you through these unique selections!